Post by Slinky on Apr 25, 2009 4:09:08 GMT -5




WILD ARMS, THE FOURTH DETONATOR



Plot
Jude Maverick has grown up in an isolated town called Ciel, which is completely enclosed in a large sphere floating thousands of feet above the surface of Filgaia. His sheltered world changes forever when he sees the sky "tear" and ships enter his homeland. Upon inspecting the campsite set up by the intruders, he sees something else that he has never seen before: a girl.
The girl's name is Yulie and she is being held captive by the intruders after being captured by a "Drifter" for hire, Arnaud G. Vasquez. After the invading army attacks Ciel and brings the sphere crashing down, Jude, Yulie and Arnaud join forces to find the army's true intention behind Yulie's abduction. With the help of another Drifter, Raquel, these four idealistic teens travel the war-torn land of Filgaia in search of truth, their own identities, and their separate paths to adulthood.




GAME REVIEW
this is the fourth installment in the WildARMS series. But you don't need to play everyone to follow the plot line. I didn't know what to expect from this game. What I didn't expect was to find a really good way to waste twelve plus hours of my life! I would be quite tempted to buy the game for myself, but after you complete the main game, all that's really left is to unlock the secret bosses which are pretty much lvl 80+

To be honest, I play the game for the characters xD Jude is so adorable, it's criminal. He's kind hearted, friendly, brave… everything that's typical of a kid and a protagonist. I don't just think the characters are 2-D. They come to life because of their background story, no matter how cliché it may be. The character development in the game is pretty astounding. Arnaud is the most obvious. And I never thought I would be getting a lecture in any game about human life and hard core adult bashing. The thing that makes the WildArms series stand out is the cowboy theme and having female protagonists. Oh yeh. However Fourth Detonator is the first time the Arms series has almost crossed cowboy with futuristic. The game talks a lot about life that many people can relate to. Of course, with life, there is also a lot of death in the game as well



Graphics
When I first hired out the game, I was shocked by the graphics. They were really good for a change xD unlike Kingdomheart, when they vary from awesome to cheap ass robotic talking, Wild Arms staid true right to the bitter end. No, the graphics weren't; OMFG FF LIFE LIEK!!!111 They were an anime style that really suited the game play. Seeing and hearing the characters was a rare treat in the game, so I that's why I appreciated the graphics. We'd normally get an anime picture of the character, and typed text as they speak, and, if we're really lucky, a voice over. The drawings mimicked the character emotions. Happy, sad, excited, embarrassed, pissed off (and they even have a drawing of them wet when the group falls off a broken bridge, into a river!


Right at the beginning of the game is a small anime introduction with the credits, and once you clear the first half of the game you can unlock the second anime opening. Yet again the drawings floored me. And at the ending of the game are screenshots of the 'ten years later'

Sound Track
The introduction music, and final boss battle are brilliant. I love the orchestra sound track. The track is very old western fused with a twenty first century beat, but sticking loyally to that cowboy theme the Arms favours so much. But I hate the girl who sings for them. She's flat as road kill, and really can't sing!! The only thing that draws it down



Game Play
A FF battle system. But luckily, I can't see the game being playing in any other format. The HEX system makes it differ slightly from FF. The only bother is that you can't move from HEX to HEX, and attack right away. Only Raquel is able to do this once she learns a certain ability.


On the world map, you can only move from place to place at snail pace. Once you get a plane (near the end of game play) you can get from place to place much quicker. In the dungeons, you're Jude. It's not very hard to get lost, because most of the time you can only move one way.
The battles are random, but don't occur that often, which is nice. However you can quickly use up all your EP when doing special attacks and can be in a tight situation in a boss battle with no magical abilities.

Voice
Unlike animes, most game voices are decent. Arms lives up to that by having a line up of well known anime and game actors
Julie Ann Talor ( Jude ) well known as Ai Tanabe in Planetes andMutsumi Otohime in Love Hina,
Yuri Lowenthal ( Armaud ) well known as Yuuri Shibuya in Kyo Kara Maoh and Sasuke Uchiha in Naruto and a hundred other animes and games
Kate Davis ( Yulie ) well known as Sakura in Naruto
And Wendee Lee ( Raquel ) as Faye Valentine on Cowboy Bebop and Urd in Oh!My Goddess

Over all
Get this game. If you like FF or any RPG, then this is the game for you. But if you want a little more than a futuristic fantasy with a lecture on the hard ship of life, look elsewhere. The game is solid for hours of playing, but the 'saving the world' can be a little rusty at some parts. However, the kids didn't go out of their way to save the world. All they really wanted was to find a safe place and live peacefully. And all the angst can get over the top sometimes, but I love it



-Jude's piccy refuses to load, but I think you guys know he's the little red head by now xp-
Jude Maverick
Age- 13
Bio- Jude grew up in an isolated village, Ciel. It was so isolated; it was hundreds of feet off the ground, in a sphereic bubble. However, when war ships begin appearing Jude unearths a military base on the village boarder. Accidentally he activates an ARM, and finds out he is a 'gene driver' with a capability of wielding extraordinary power.
Jude is immature and naïve on Ciel, but is forced to grow up fast when Ciel is invaded. Jude never stops smiling, and always keeps his team members going. He's wise beyond years, and has an open heart.
Weapon- ARM- 'Shape shifter' his ARM can fire, and morph into a blade in close combat
Strengths in game- Jude is a good all rounder, but his speed is the highest. He is able to fire across a HEX, and participate in close combat. If Jude is knocked out, then your team is at an extreme disadvantage.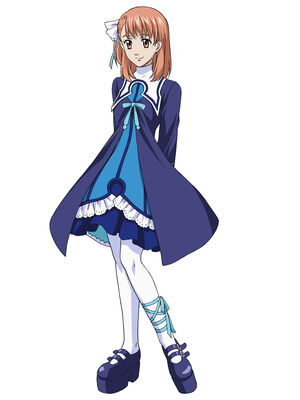 Yulie Athreide
Age- 15
Yulie was locked in the military base, and rescued by Jude. She always feels guilty of having dragged in others to help her, and is forever saying; 'Sorry'
Worried some of the time, Yulie is a positive girl, and doesn't like violence. She always wants to please her companions.
Weapon- Chakrams- close combat/ healing range
Strengths in Game- Yulie is by far the weakest in your team. Make sure she is out of the firing range, and kept alive. Her healing/ revive abilities are an important aspect for your team, and her Material attack. Material devastates the field with water/fire/earth/heal.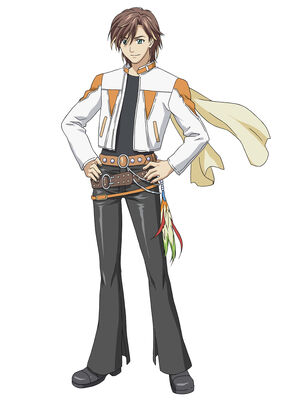 Arnaud G. Vasquez
Age- 18
Bio- Arnaud is also locked in the military base, and is rescued by Jude. Apparently, Arnaud was the one who captured Yulie in the first place. He's very attractive and a good smooth talker, and his life statement is; I'm pretty confident in everything from the neck up
Arnaud uses his smarts to get him out of tight situations. He's the one who comes up with the plans. He's a bit of a joker, and only becomes serious when the times right. He'd rather run from fights, and is a bit of a coward.
Weapon- Three feather darts- close combat, range magic
Strengths in game- Arnaud is the seconded weakest in the team. His attack states are appalling, so don't even bother with close combat. His strengths lie in his magic. He's the mage of the group.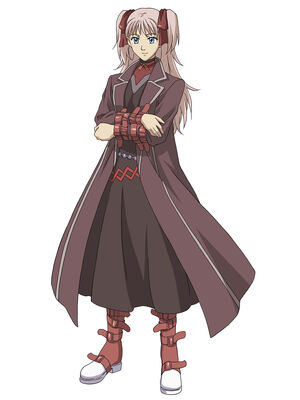 Raquel Applegate
Age- 19
Bio- A drifter the group meet in a bar. Raquel is a bit of a hard nut, but is revealed why later in the game. She wants to find the remaining beauty in Filgaia and paint the landscape. Her blunt language conceals her caring heart.
The mature, and most adult in the group. But when she becomes flustered, she can react quite differently. She cares for the group a lot.
Weapon- Heavy broad sword- close combat
Strengths in game- Raquel is your strongest attacker. She can kill in one blow. How ever her speed is appalling, and so is her HP. By the time it's her turn, she might already be KO'd.